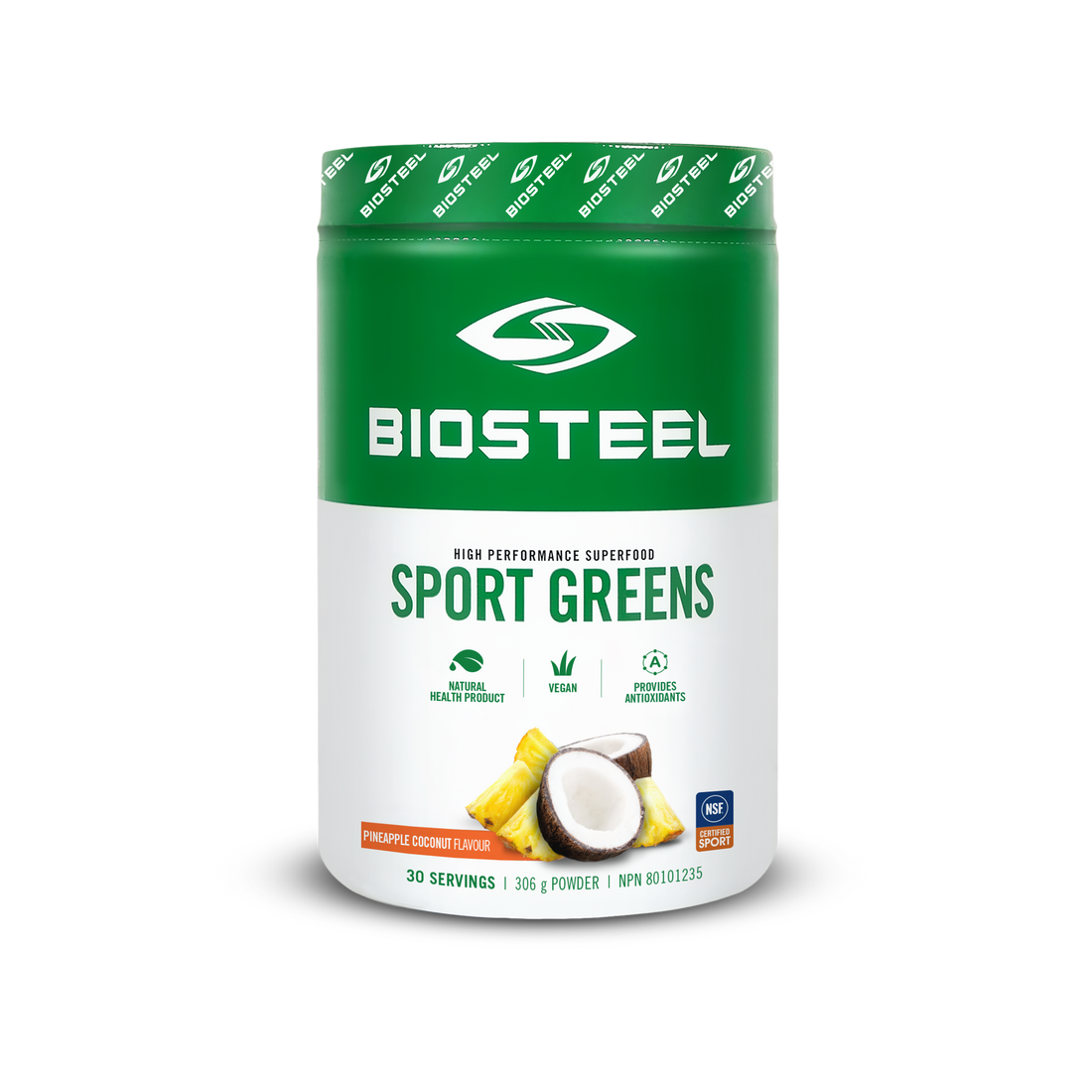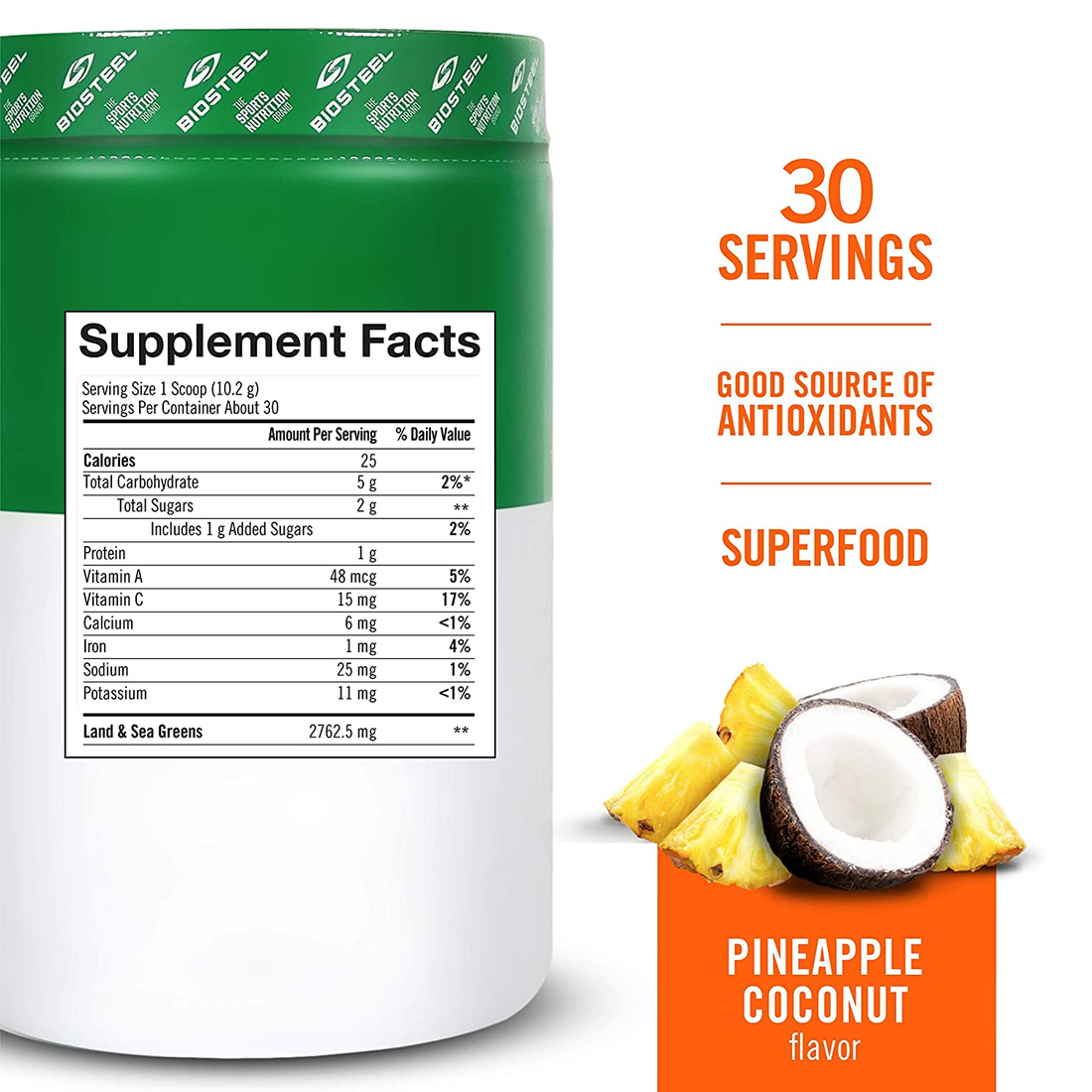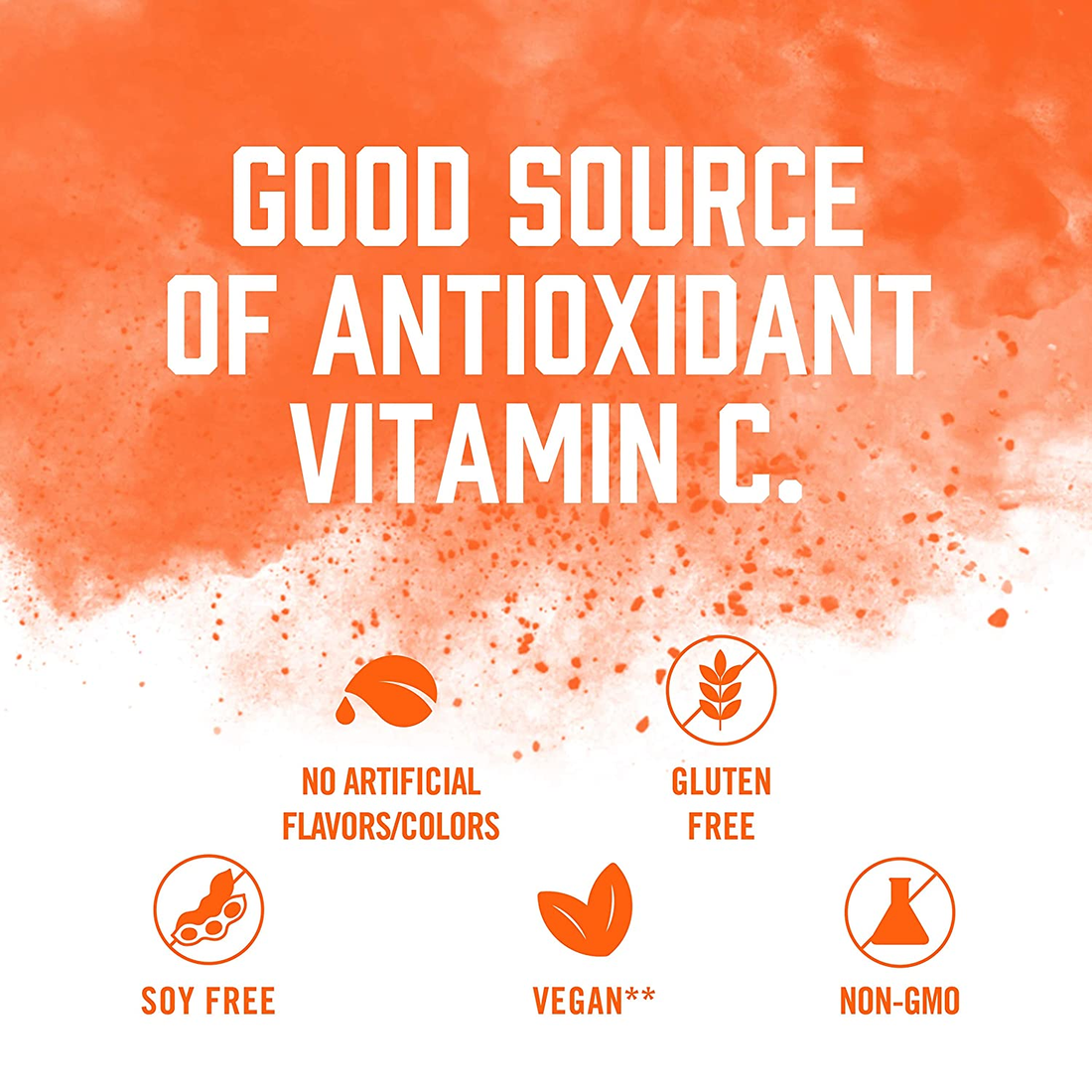 SPORT GREENS / Pineapple Coconut - 30 Servings
SPORT GREENS / Pineapple Coconut - 30 Servings
natural colour and flavour
soy free
stevia
Details
BioSteel's great-tasting Sport Greens formula contains over 20 whole ingredients from organic and fermented sources, providing a unique combination of SuperFoods that help you meet your daily recommended dose of fruits and vegetables.
Natural, non-GMO ingredients
High in antioxidants
Fermented amino acid
No gluten, soy, or dairy
High in Antioxidants
Supports Cardiovascular Health
Provides Muscle Support
Frequently Asked Questions
Can the product be mixed with juice or yogurt?
The BioSteel Sport Greens can be added to any liquid or food.
Does this product need to be refrigerated?
The BioSteel Sport Greens does not need to be refrigerated. To maintain freshness, it is recommended to store it in a cool and dry environment.
Can I take BioSteel Sport Greens with BioSteel Hydration Mix?
Absolutely – adding our Hydration Mix will provide increased hydration support and amino acid delivery for improved performance.
How much caffeine is in  Sport Greens?
Sport Greens contains a very small amount of caffeine, approximately 2 mg per scoop, naturally coming from the green tea extract and matcha. 
Nutritional Facts
Nutrients per scoop (10.2 g) % Daily Value/valeur quotidienne
Nutriments par mesure (10,2 g)
Servings per container / Portions par contenant: 12
Calories / Calories 25
Carbohydrates / Glucides 5 g
Sugars / Sucre 2 g 2%
Protein / Protéines 1 g

Medicinal Ingredients / Ingrédients médicinaux :
Land & Sea Greens / Légumes verts terrestres et marins:
Spirulina (Arthrospira platensis) / Spiruline (Arthrospira platensis) 1,875 g
Barleygrass (Hordeum vulgare leaf) / Herbe d'orge (Hordeum vulgare, feuille) 312,5 mg
Broccoli (Brassica oleracea var. italica herb top) / Brocoli (Brassica oleracea var. italica, sommité) 275 mg
ConcenTrace® Alfalfa / Luzerne ConcenTraceMD 100 mg
Providing / Fournit
Alfalfa (Medicago sativa herb top) / Luzerne (Medicago sativa, sommité) 48 mg
Concentrated desalinated Inland Sea water /
Eau de mer intérieure dessalée concentrée 52mg
Spinach (Spinacia oleracea leaf) / Épinard (Spinacia oleracea, feuille) 100 mg
Kale (Brassica oleracea var. viridis leaf) / Chou frisé (Brassica oleracea var. viridis, feuille) 100 mg

Antioxidants / Antioxydants :
Goji (Lycium barbarum fruit) / Goji (Lycium barbarum, fruit) 287,5 mg
Camu-camu (Myrciaria dubia fruit) / Camu-camu (Myrciaria dubia, fruit) 125 mg
Pineapple (Ananas comosus var. Comosus fruit) / Ananas (Ananas comosus var. Comosus, fruit) 125 mg
Green tea extract 15:1 (Camellia sinensis leaf; 95% polyphenols, 75% catechins, 45% EGCG) / Extrait de thé vert 15:1 (Camellia sinensis, feuille; 95 % de polyphénols, 75 % de catéchines, 45 % d'EGCG) 100 mg
Tart cherry 4:1 extract (Prunus cerasus fruit) / Extrait de cerise acide 4:1 (Prunus cerasus, fruit) 100 mg
Blueberry (Vaccinium angustifolium fruit) / Bleuet (Vaccinium angustifolium, fruit) 75 mg
Coconut water (Cocos nucifera liquid endosperm) / Eau de coco (Cocos nucifera, endosperme liquide) 125 mg
Green tea (Camellia sinensis leaf; 5% polyphenols) / Thé vert (Camellia sinensis, feuille; 5 % de polyphénols) 50 mg
Coenzyme Q10 / Coenzyme Q10 50 mg
Turmeric (Curcuma longa rhizome) / Curcuma (Curcuma longa, rhizome) 300 mg
Quercetin (Quercetin dihydrate) / Quercétine (dihydrate de quercétine) 35 mg
Astaxanthin (Haematococcus pluvialis) / Astaxanthine (Haematococcus pluvialis) 80 mcg

Performance Complex / Complexe de performance :
L-Leucine/ L-leucine 1 g
L-Glutamine/ L-glutamine 0,5 g
Inulin (Cichorium intybus root) / Inuline (Cichorium intybus, racine) 50 mg
Piperine (Piper nigrum fruit) / Pipérine (Piper nigrum, fruit) 5 mg
Betaine / Bétaïne 0,2 g

Non-Medicinal Ingredients: Rice syrup solids, citric acid, natural flavour, xanthan gum, purified stevia leaf extract, silicon dioxide, maltodextrin, corn starch, lecithin, tapioca.
Cautions and warnings:
Ensure to drink enough fluid before, during, and after exercise. Consult a health care practitioner prior to use if you have a liver disorder, an iron deficiency, gallstones, a bile duct obstruction, stomach ulcers or excess stomach acid, if you are taking blood pressure medication, blood thinners, birth control medication, or any other medications or natural health products (as piperine may alter their effectiveness), if you are undergoing hormone replacement therapy (HRT). Stop use and consult a health care practitioner if you develop symptoms of liver trouble such as yellowing of the skin/eyes (jaundice), stomach pain, dark urine, sweating, nausea, unusual tiredness and/or loss of appetite. Do not use this product if you are pregnant, breastfeeding or have a history of systemic lupus erythematosus. Rare, unpredictable cases of liver injury associated with green tea extract-containing products have been reported. Hypersensitivity has been known to occur.
Storage: Store in well-closed, light-resistant container in a cool, dry place. Do not use if security seal is broken or missing.
Recommended Use
Adults: mix 1 scoop with 250-500 ml of water.