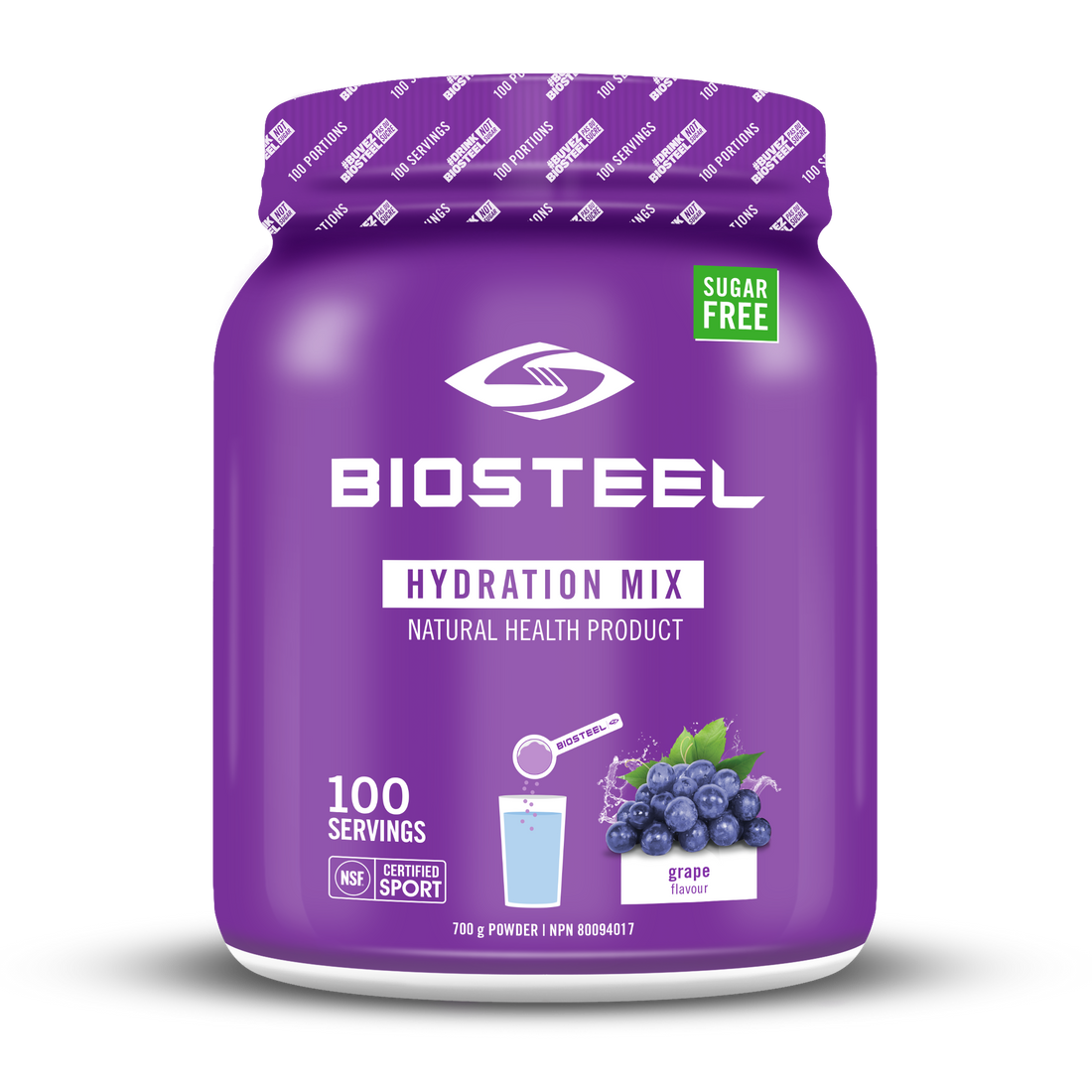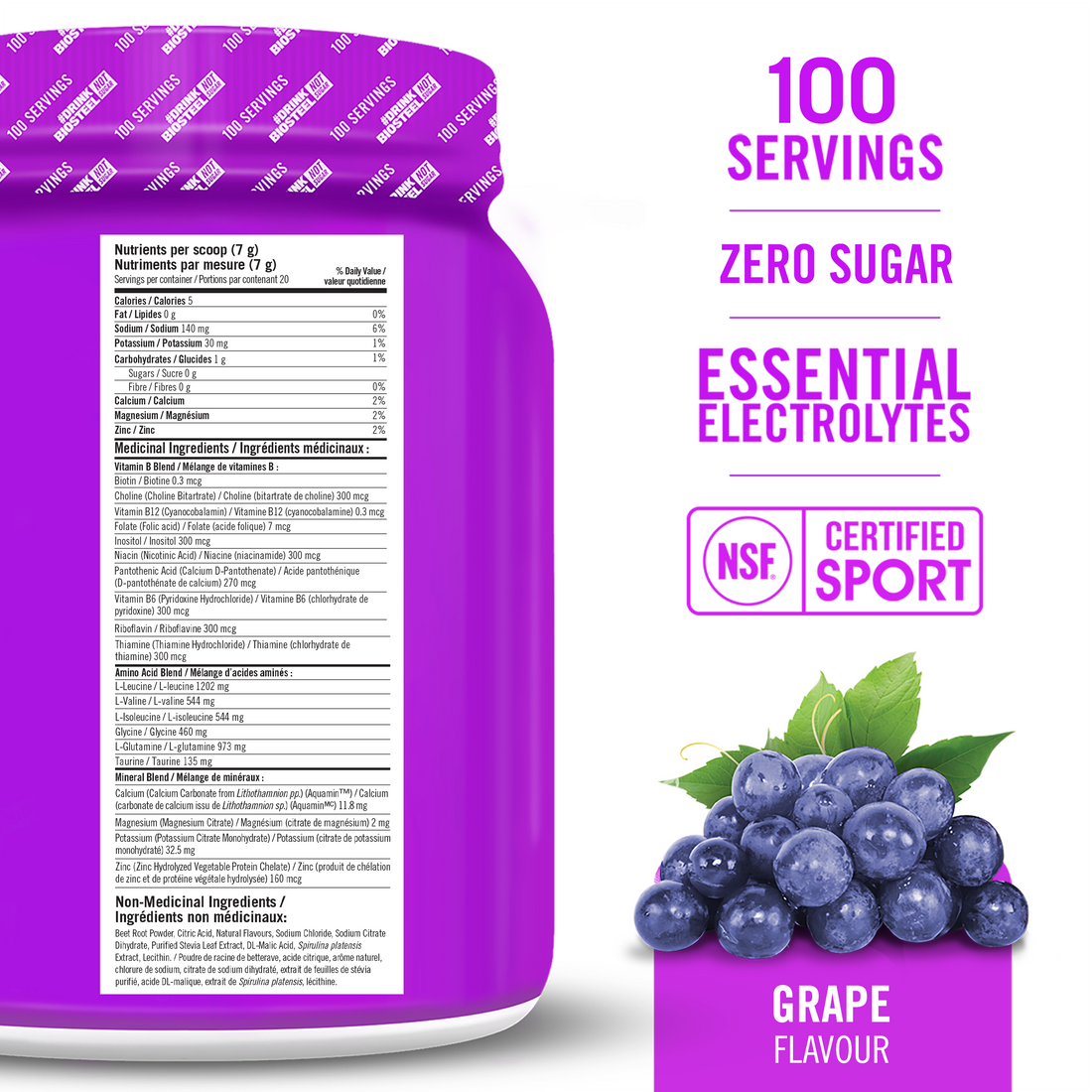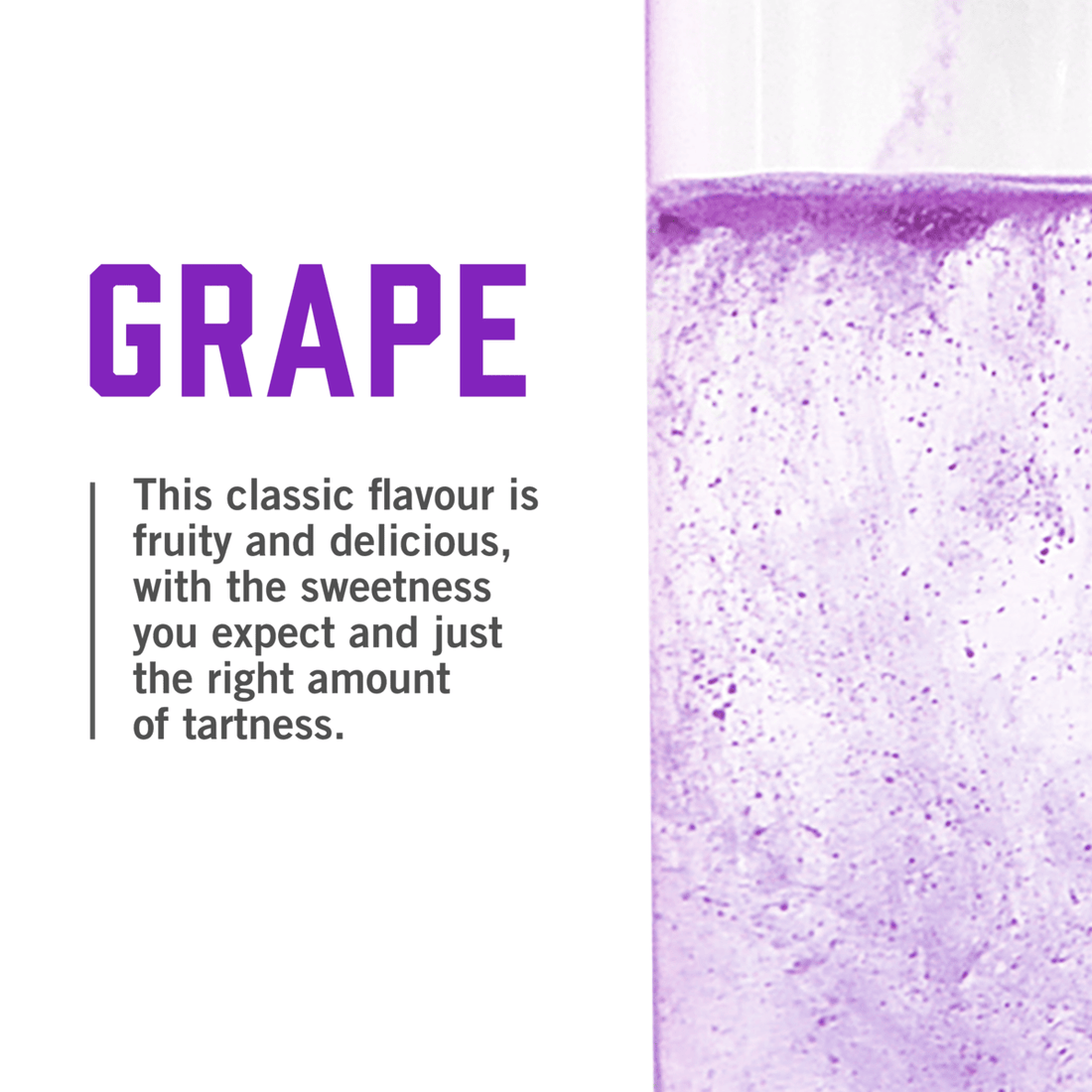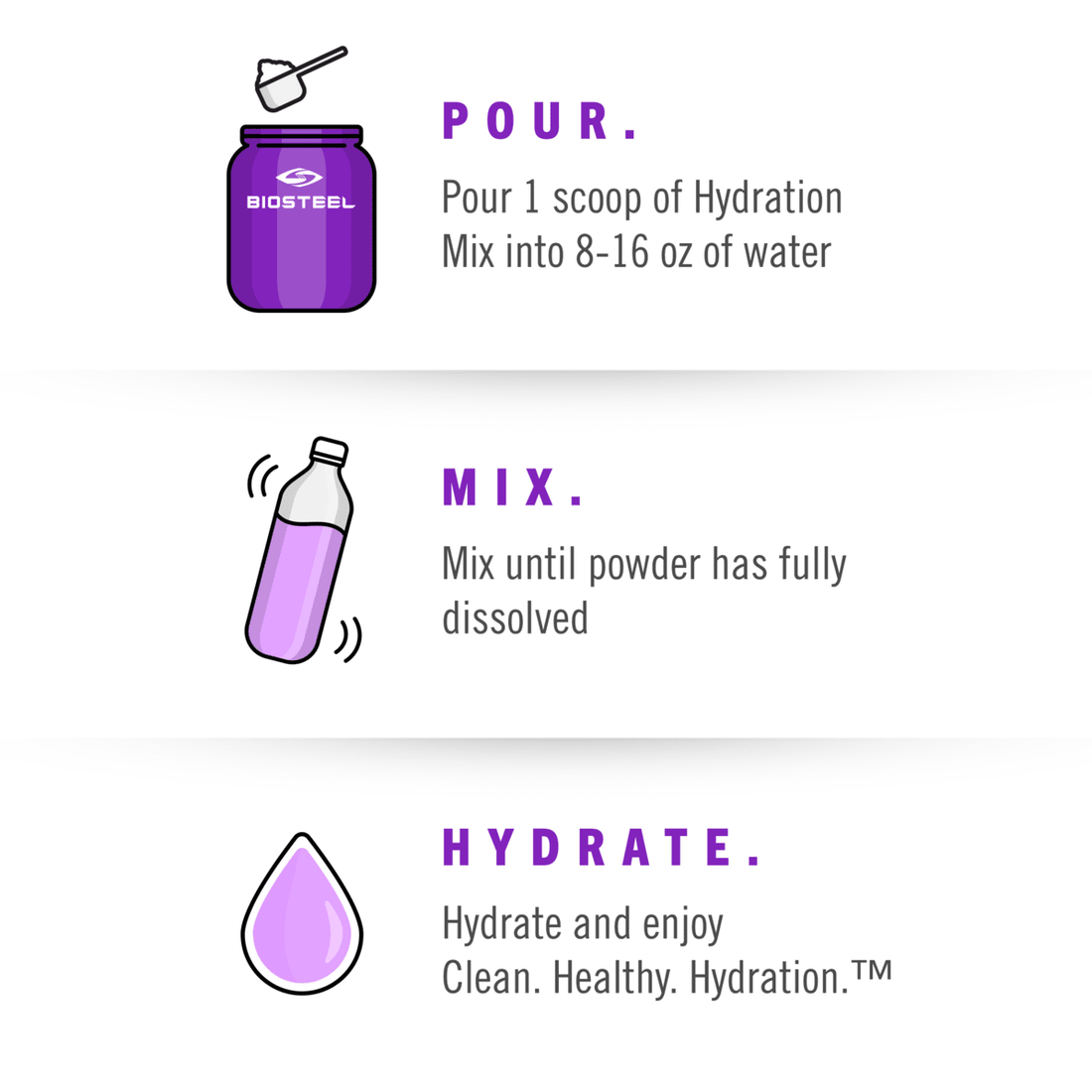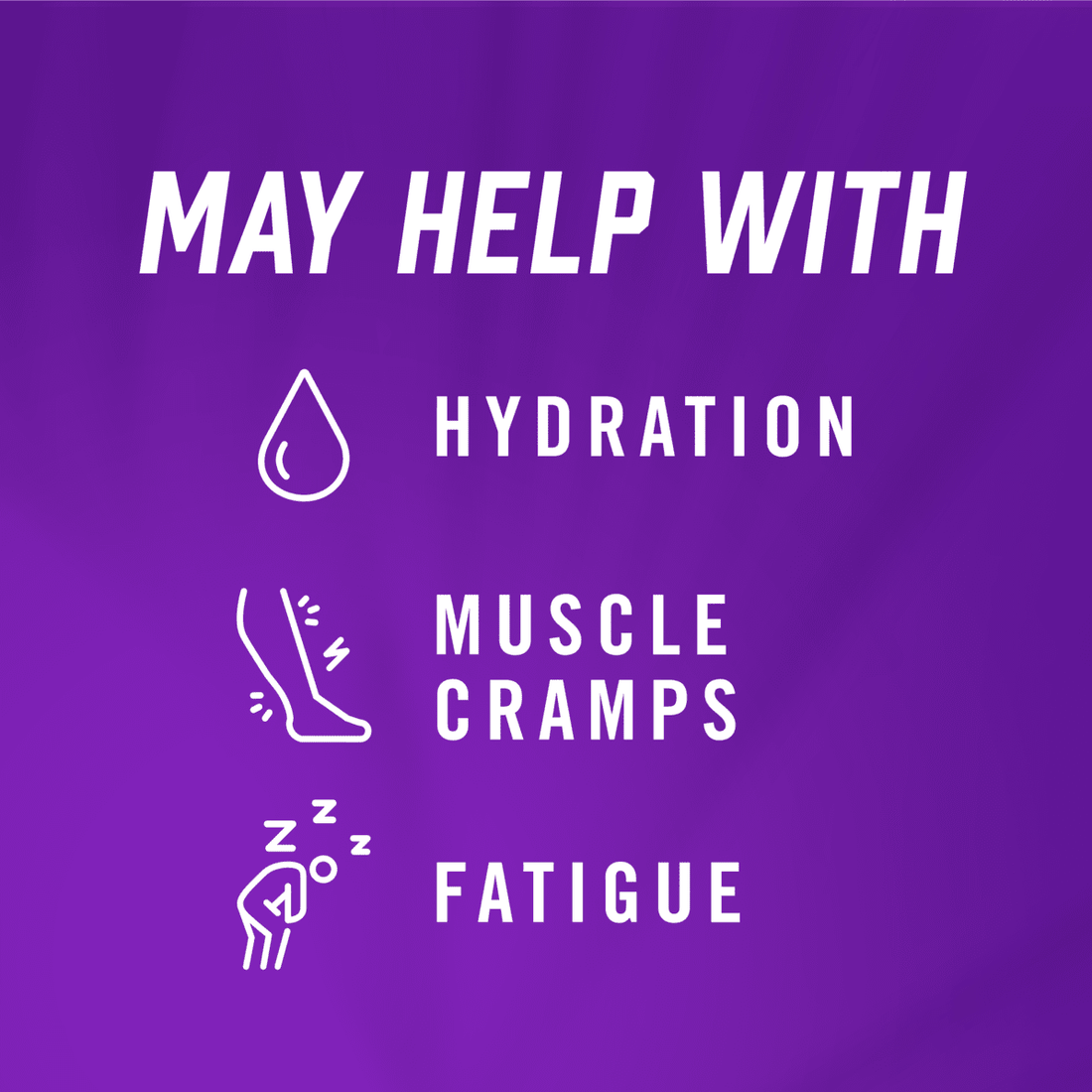 HYDRATION MIX / Grape - 100 Servings
HYDRATION MIX / Grape - 100 Servings
Serving Size
zero sugar
great tasting hydration
no artificial colours or flavours
Details
BioSteel's Hydration Mix is designed to keep you hydrated throughout the day with great-tasting, instant hydration. Our zero sugar Hydration Mix powder is made from clean, quality ingredients, with no artificial colours, flavours or preservatives. Added vitamins and minerals help support overall good health, energy production and the normal function of your immune system. Simply add a scoop/packet into your water, mix, and hydrate!
Our mission is to provide you with Clean. Healthy. Hydration.™ which means:
Zero Sugar
Natural Health Product
No Artificial Flavours/Colours
No Preservatives
Vegan
Caffeine Free
Non-GMO
Gluten Free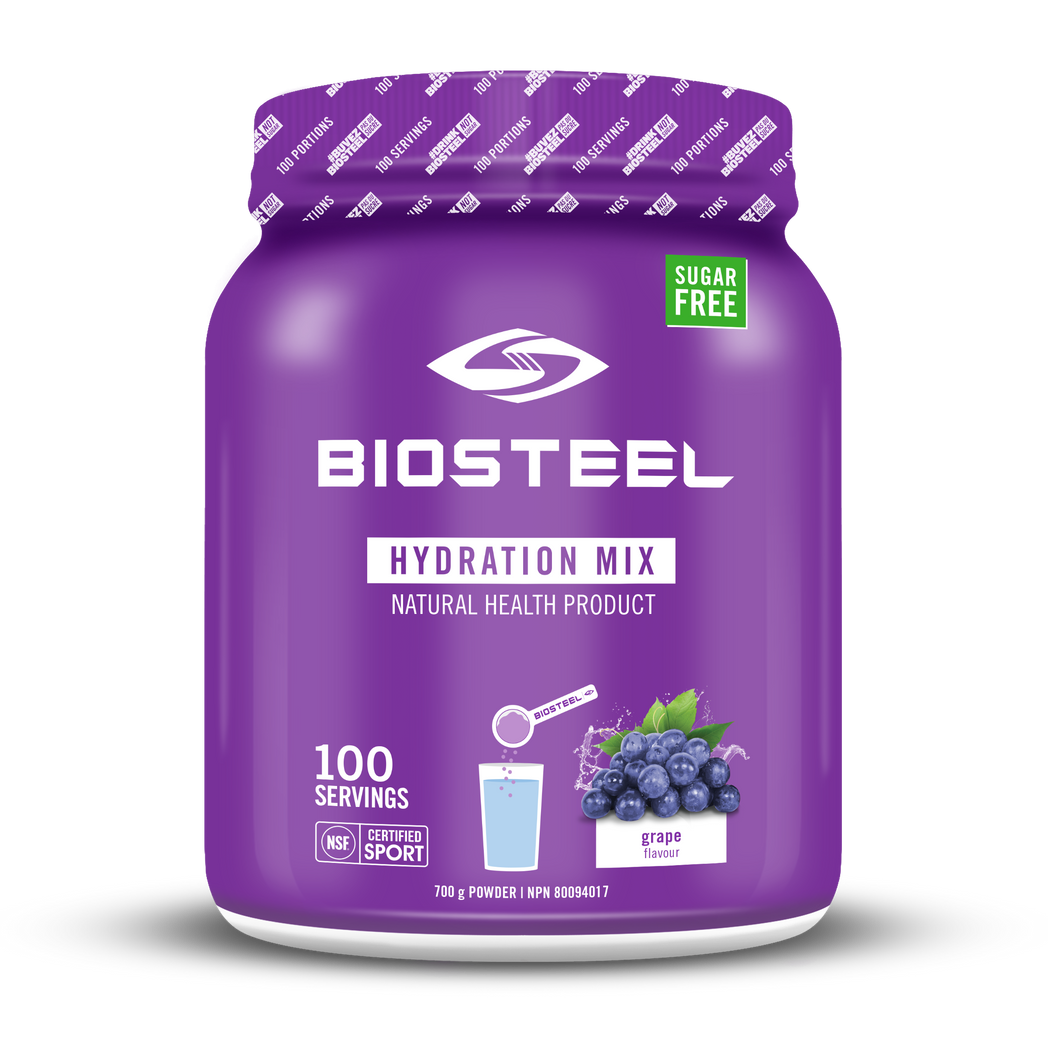 Frequently Asked Questions
Why is BioSteel the better for you hydration?
At BioSteel we believe in creating the healthiest sports hydration and nutrition products on the planet. Our Hydration mix is formulated with the following: 
Zero sugar: We use stevia, instead of added sugar, to support both hydration and health. 
B vitamin blend: To support energy production. 
Essential Amino Acids: To reduce and delay physical and mental fatigue. 
All natural ingredients: We use only fruit and vegetable powders to add colour, and our natural flavours are derived from sources found in nature. 
No preservatives: Every ingredient has a functional purpose and supports your overall health. 
When is the best time to consume Hydration Mix?
Hydration mix can be consumed before, during and after exercise to optimize hydration levels. It is also a great hydration option any time of day regardless of activity level! Whether it's first thing in the morning to help kickstart your day, or as a trusted travel companion to keep you feeling your best on the go. 
"I drink BioSteel's Hydration Mix everyday throughout the day to keep me hydrated and energized. It's also a great way to stay hydrated during a game or while training. My favourite flavour will always be OG Mixed Berry!"
- Connor McDavid #TeamBioSteel
Why does my BioSteel change colours if I leave it outside? Does this mean it has gone bad?
The colours in our Hydration Mix are derived from fruit and vegetables and as our product does not contain any artificial preservatives, the colours naturally degrade in sunlight. This is completely normal! For best practices, please follow the directions on the label and store your product in a dry and temperate climate away from sunlight.
Can Hydration Mix be used as a pre-workout or an energy drink?
Hydration Mix is a unique, all-in-one, sugar and stimulant free product which can help support your workout. The combination of minerals, B-vitamins and amino acids supports CLEAN. HEALTHY. HYDRATION.™, energy production and muscle strength and recovery, which help you perform your best. It is not an energy drink or pre-workout product - it is a healthy, better for you hydration product!
Does BioSteel's Hydration Mix contain sugar?
Sugar is not necessary for hydration. In addition, most athletes and active individuals do not deplete glycogen during activity to the point of needing to replenish it with sugar during exercise. We believe in getting your carbs from healthy food sources, not added sugar. Apart from having no functional benefits, sugar is linked to dehydration, energy crashes and is not great for your overall health. For all of these reasons and more, BioSteel products are sweetened with natural stevia extract, instead of sugar, to support your hydration AND your health! 
"It's really important to me that BioSteel's Hydration Mix is sugar-free, and it's sweetened with natural stevia leaf. Making sure I'm not consuming a lot of sugar is very important to my diet, my lifestyle, and my performance in my sport. Consuming a lot of sugar has some negative health effects, so I never have to worry about that with BioSteel's Hydration Mix."
- Tyler Seguin #TeamBioSteel
Will consuming Hydration Mix break my fast?
There are many different definitions of fasting. Generally speaking, our Hydration Mix may keep you in a metabolically fasted state as it does not contain any added sugar to spike insulin levels to any great extent.
Why is being hydrated so important?
Our body is made up of 60% water and our biological functions depend heavily on water. Water is continuously being lost from our bodies from our breath, sweat, urine, and any activities we participate in. Dehydration can have an impact on power production, mental and cognitive function, and endurance. Opt for BioSteel's Hydration Mix or Sports Drink to optimize fluid intake and retention.
Nutritional Facts
AMOUNT PER SERVING (7 G)
SERVINGS PER CONTAINER 100
Calories 5
Fat 0 g
Sodium 140 mg
Potassium 30 mg
Carbohydrate 1 g
Sugars 0 g
Protein 0 g
% DAILY VALUE
Calcium 2%
Magnesium 2%
Zinc 2%

Medicinal Ingredients
Vitamin B Blend
Biotin 0.3 mcg, Choline (Choline Bitartrate) 300 mcg, Vitamin B12 (Cyanocobalamin) 0.3 mcg, Folate (Folic Acid) 7 mcg, Inositol 300 mcg, Niacin (Vitamin B3) 300 mcg, Pantothenic Acid (Calcium D-Pantothenate) 270 mcg, Vitamin B6 300 mcg, Riboflavin (Vitamin B2) 300 mcg, Thiamine (Vitamin B1) 300 mcg

Amino Acid Blend
L-Leucine 1202 mg, L-Valine 544 mg, L-Isoleucine 544 mg, Glycine 460 mg, L-Glutamine 973 mg, Taurine 135 mg

Mineral Blend
Calcium (Calcium Carbonate from Lithothamnion pp.) (Aquamin™) 11.8 mg, Magnesium (Magnesium Citrate) 2 mg, Potassium (Potassium Citrate Monohydrate) 32.5 mg, Zinc (Zinc Hydrolyzed Vegetable Protein Chelate) 160 mcg.

NON-MEDICINAL INGREDIENTS
Beet Root Powder, Citric Acid, Natural Grape Flavour, Sodium Chloride, Sodium Citrate Dihydrate, Purified Stevia Leaf Extract, Spirulina platensis Extract, Lecithin.
Allergen Warning
Made in a facility that also processes milk, soy, sesame, egg, peanuts, tree nuts, fish/crustaceans/shellfish oils, and wheat products.
Recommended Use
Recommended Dose (Adults): Mix 1 scoop (7 g), once daily, well in 1 – 2 cups of liquid (water, juice, etc.) immediately before consumption. You may alter your water levels in order to achieve your desired taste. Take with food, a few hours before or after taking other medications or natural health products.
Cautions and Warnings: Ensure to drink enough fluid before, during, and after exercise. If you are pregnant or breastfeeding, consult a healthcare practitioner before using this product.
Storage: Store in a cool, dry place. Do not use if security seal is broken or missing.