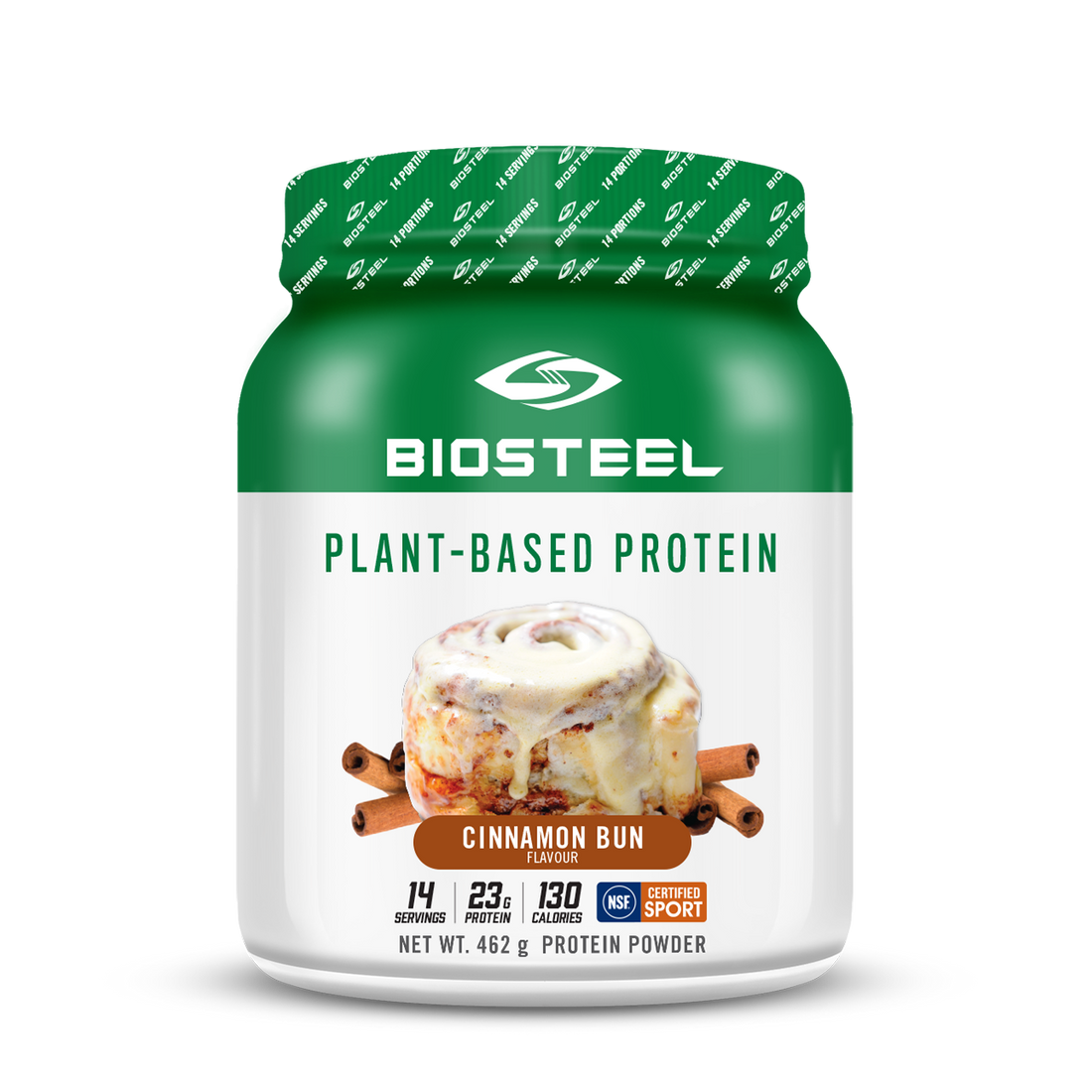 Plant-Based Protein / Cinnamon Bun - 14 Servings
Plant-Based Protein / Cinnamon Bun - 14 Servings
100 percent vegan
natural colour and flavour
raw and sprouted sources
Details
BioSteel's Plant-Based Protein includes brown rice, pea, and pumpkin seed proteins.
100% Vegan
Raw and Sprouted Sources
Natural Flavours/Colours
Rice Pea & Pumpkin Proteins
Soy/Gluten Free
Banned Substance Free
Low Fat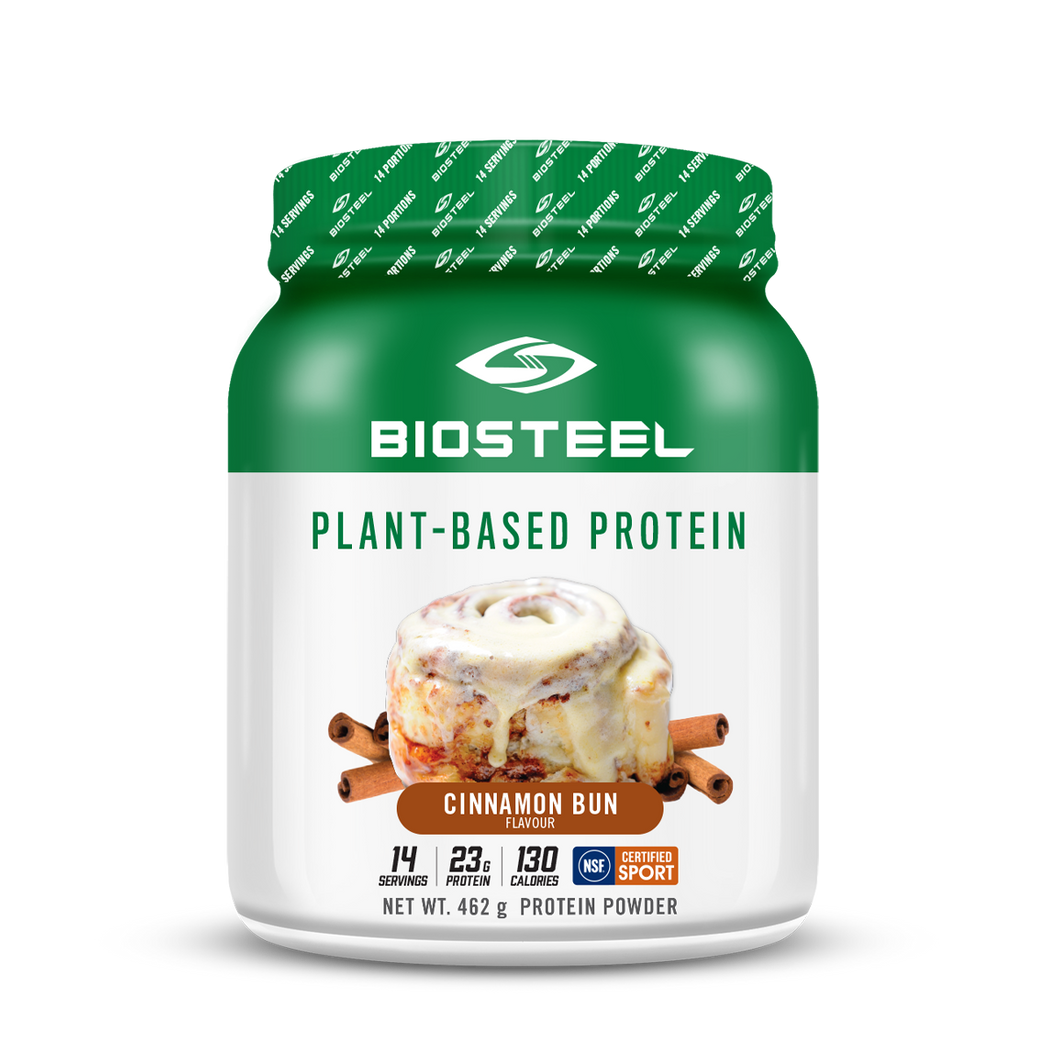 Builds Lean Muscle Mass
Supports Muscle Recovery
Factor in the maintenance of good health
Frequently Asked Questions
What's the difference between your Whey and Plant Proteins?
Our whey based protein powders are complete sources of protein derived from dairy. Our plant based proteins are derived from plant sources-specifically brown rice, pea and pumpkin. This combination of plant sources provides a complete protein source. The right one for you depends on your lifestyle and dietary preferences.
Does the Plant-Based Protein Mix well?
Our Plant-Based Protein mixes great in a shaker cup or blender.
Is your Plant-Based Protein Dairy Free?
Yes! Our Plant-Based Protein is 100% dairy-free.
Nutritional Facts
AMOUNT PER SERVING (33G)
SERVINGS PER CONTAINER 14
Calories 130
Total Fat 2 g 3%
Saturated 0.5 g + Trans 0 g 3%
Cholesterol 0 mg
Protein 23 g
Carbohydrate 5 g
Sugar 1 g 1%
Fibre 1 g 4%
Sodium 330 mg 14%
Potassium 75 mg 2%
Calcium 20 mg 2%
Iron 5.5 mg 31%
** Essential Amino Acids/Acides aminés essentiels
Alanine

Arginine

Aspartic Acid / Acide aspartique

Cystine

Glutamic Acid / Acide glutamique

Glycine

Histidine**

Isoleucine**

Leucine**

Lysine**

Methionine / Méthionine**

Phenylalanine / Phénylalanine**

Proline / Proline

Serine / Sérine

Threonine / Thréonine**

Tryptophan / Tryptophane

Tyrosine

Valine**

1.18 g

2.04 g

2.24 g

0.51 g

4.03 g

0.99 g

0.46 g

1.00 g

1.91 g

1.11 g

0.51 g

1.24 g

0.96 g

1.43 g

0.82 g

0.09 g

0.78 g

1.66 g

May Contain: Milk, sesame, peanuts, tree nuts, soy, egg, fish/crustaceans/shellfish oils, and wheat products.
Ingredients: Organic Brown Rice Protein, Pea Protein, Organic Pumpkin Seed Protein, Natural Flavours, Pea Starch, Celtic Sea Salt®, Xanthan Gum, Stevia (Leaf) Extract, Sea Salt.
PLANT-BASED COMPLEX 3 sources of plant-based protein: Whole Grain Brown Rice, Pea Protein Isolate, and Pumpkin Seed Protein.
Recommended Use
Adults: mix 1-2 scoops with 250-500 ml of water.

As part of a healthy shake

After a workout/exercise

For those looking to lean out when part of a balanced diet and exercise routine