Got 10 minutes? That's all you really need to create easy, tasty, and healthy overnight 'N'oats'. We call these 'N'Oats' because there are actually NO oats in this recipe, but the entire mix of ingredients creates an oat-like base without actually using any oats, to keep this recipe paleo! A big bowl of overnight 'oats' is the best way to start the day! An overnight breakfast recipe like this is a a great no-cook healthy option that can be prepared ahead of time and last the entire week.
Ingredients:
1 cup Almonds (raw)
1/2 cup Pumpkin Seeds (raw)
1 tbsp Ground Flax Seed
2 tbsp Chia Seeds
1 1/2 cups Unsweetened Almond Milk
1/4 tsp Cinnamon (ground)
3 tbsp Pomegranate Seeds
3 tbsp Cacao Nibs
3 tbsp Almond Butter
1/4 cup BioSteel's Chocolate Protein Powder
Directions:
Add almonds, pumpkin seeds and flax seeds to a blender and process until almost ground.
Transfer to a large glass jar along with the chia seeds, almond milk, and cinnamon.
Place in the fridge overnight or for at least 4 hours
In the morning, divide into jars and top with pomegranate seeds, cacao nibs, and almond butter.
Enjoy hot or cold – however you prefer it!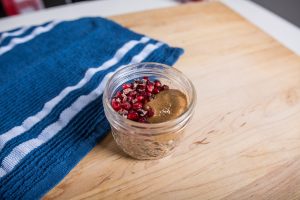 Notes:
Reheating: Reheat this on the stovetop in a pot over low heat until warmed through
Leftovers: store in airtight jars in the fridge for up to 5 days
More toppings: serve with any fresh or frozen fruits, nut/seed butter, unsweetened coconut, or nut butter!
Like it sweet: Drizzle with some honey
Recipe by Sylvie Tetrault