No one would ever guess that these Clusters are both vegan and gluten-free. Perfect for all Peanut Butter + Chocolate lovers (we know there are tons of you out there!) and also perfect for those looking for a low-ingredient, no bake, healthy snack option. When you're looking to satisfy that chocolate craving, with that peanut butter craving, with that crunch craving, all in one healthy bite. We got you!
Ingredients:
1 cup Natural Chunky Peanut Butter
1/2 cup Pure Maple Syrup (or Raw Honey)
1 cup Gluten Free Oats
2 tbsp unsweetened Cocoa Powder
1/2 Scoop BioSteel's Plant-Based Chocolate Protein Powder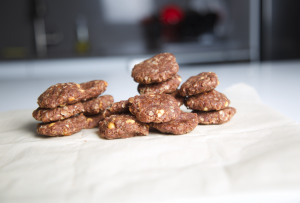 Directions:
Line a baking sheet with parchment paper.
Add together the Crunchy Peanut Butter and Maple Syrup into a bowl and mix together.
Microwave the Peanut Butter and Maple Syrup for 30 seconds, take it out, and mix it again.
Repeat step #3 5 times.
Add the remaining ingredients to the Peanut Butter Maple Syrup mix.
Stir and mix well.
Scoop the mixture into balls and then flatten into clusters with your fingers or a fork.
Line them up on the baking sheet and put them in the freezer for 30 minutes.
Take them out of the freezer 15 minutes before you are ready to consume.
Store them in the fridge.