Are you a chocolate lover? I mean, who isn't? These protein balls are perfect for all chocolate lovers! Not only are they packed with protein, but each bite will satisfy your chocolate craving. This healthy, chocolatey snack is ideal for curing your mid-day hunger pains.
Ingredients
¼ cup of BioSteel's Chocolate Whey Protein Isolate
2 tbsp of Almond Flour
1-2 tbsp of Coconut Flour
2 tbsp of Cocoa Powder
¼ cup of Dark Chocolate Chips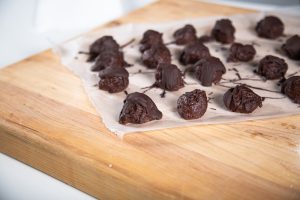 Directions  
Add all dry ingredients into a bowl and mix.
Add almond milk to dry ingredients and mix, the batter should be thick enough to mold into shapes.
Take a little bit of batter and shape into balls.
Once all the balls are formed, place them in the fridge for a couple minutes to harden.
Melt the chocolate chips in the microwave.
Once the chocolate is melted, dip the bars into the melted chocolate to coat.
Place balls in the fridge for at least an hour.
Remove from fridge and enjoy!
Notes: If the batter is too liquid-y, add in an extra tbsp of coconut flour.
Recipe by: Sylvie Tetrault