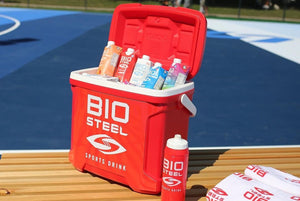 Program Perks
10% sales commission 
Discounts for you and your followers 
Reposts on our social media and website 
Surprise gifts and offers 
Access to products and swag 
How it works
Applying (and joining) is completely free! You will be notified if you are successfully selected within 4 weeks of applying. 
Must be 18+. Social media pages must be public and not feature inappropriate content. 
You'll get a unique discount code and URL to share with your followers. 
You'll make 10% in commission, paid directly every 30 days via direct deposit, wire transfer, or PayPal.  
You'll have easy-to-use, real-time access to your sales and commission. 
All you need to do is create content and share your love for BioSteel. 
Whether you're a next gen athlete, weekend warrior, frontline worker, or involved parent – we encourage you, as part of the BioSteel community, to apply!