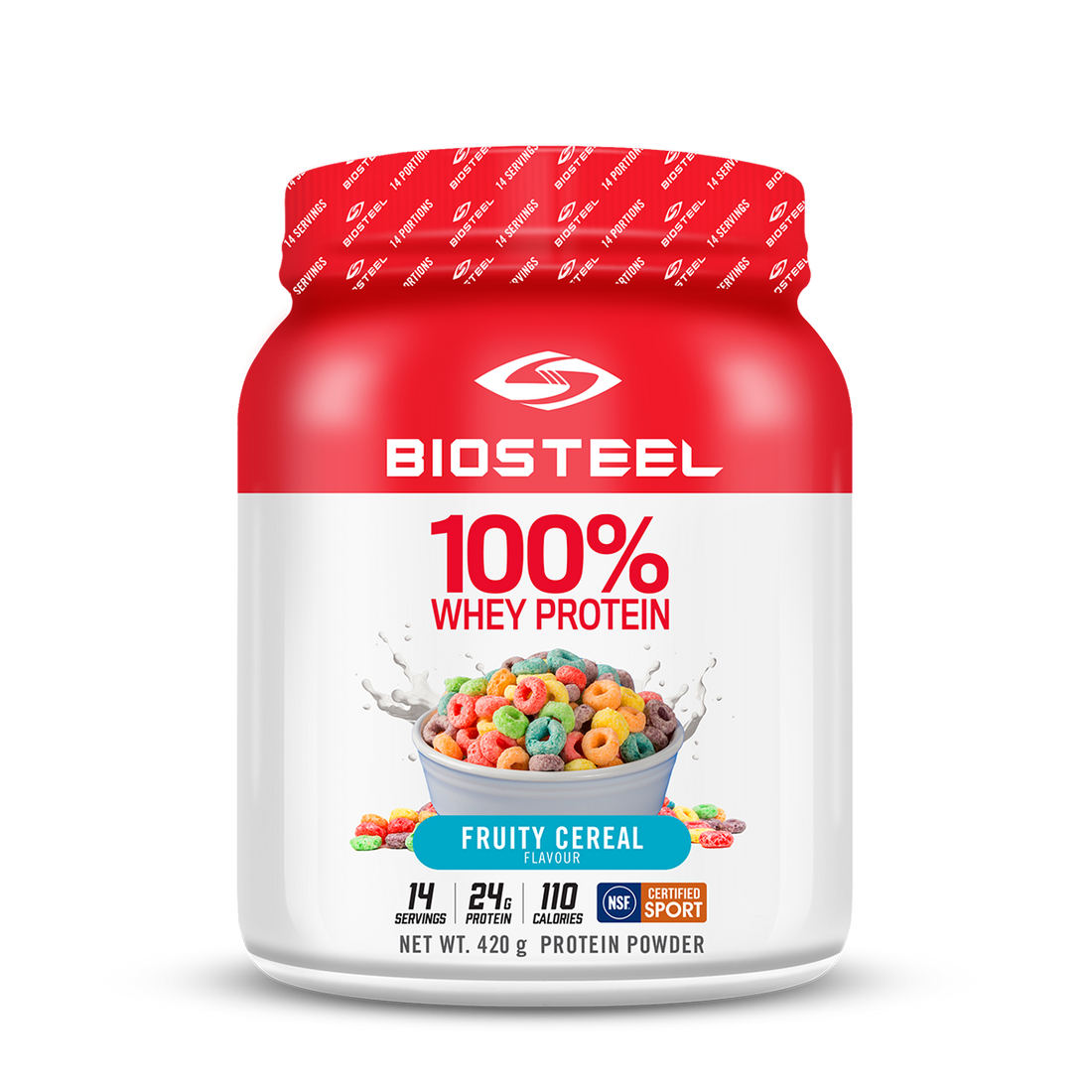 100% Whey Protein / Fruity Cereal - 14 Servings
100% Whey Protein / Fruity Cereal - 14 Servings
sweetened with stevia
no artificial colours or flavours
rgbh hormone free
Details
Perfect for delivering essential proteins to your body after a workout, BioSteel's 100% Whey provides a blend of three high quality protein sources that are easily absorbed and digested by the body with optimum nutritional benefits.
Primarily Whey Isolate
No Artificial Colours/Flavours
rBGH Hormone Free
Sweetened with Stevia
Gluten/Soy Free
Non-GMO
Helps Build Strong Muscles
Helps Build & Repair Body Tissues
Factor in the maintenance of good health
Frequently Asked Questions
What is the difference between Recovery Protein Plus and Whey Protein Isolate?
Recovery Protein Plus provides a combination of three sources of protein, including whey protein isolate, along with carbohydrates, recovery factors and enzymes. It's the go-to product for post workout recovery, especially for those who take part in high endurance activity. Whey Protein Isolate provides 28 g of protein per serving, from whey protein isolate and nothing else. Whey Protein Isolate is a highly purified form of dairy protein that delivers a high dose of protein with less carbs, fat and lactose and is great for post work-out muscle support and repair. Whey Protein Isolate is commonly well tolerated by those who experience gastrointestinal disturbance with dairy based protein.
When should I take WPI?
WPI can be taken at any time during the day as a healthy source of protein. It can also be used after a workout if one is following a low carb diet.
Is there any sugar in WPI?
The WPI does not contain any sugar and is sweetened with natural Stevia leaf.
Nutritional Facts
AMOUNT PER SERVING (30G)
SERVINGS PER CONTAINER 14
Calories 120
Fat 1 g 1%
Saturated 0.5 3%
(+) Trans 0 g
Cholesterol 35 mg
Sodium 110 mg 5%
Potassium 125 mg 3%
Carbohydrate 3g 1%
Fibre 0 g
Sugars 2 g 2%
Protein 24 g
Calcium 125 mg 10%
Iron 0.2 mg 1%
** Essential Amino Acids
Alanine / Alanine

Arginine / Arginine

Aspartic Acid / Acide aspartique

Cystine / Cystine

Glutamic Acid / Acide glutamique

Glycine / Glycine

Histidine / Histidine**

Isoleucine / Isoleucine**

Leucine / Leucine**

Lysine / Lysine**

Methionine / Méthionine**

Phenylalanine / Phénylalanine**

Proline / Proline

Serine / Sérine

Threonine / Thréonine**

Tryptophan / Tryptophane

Tyrosine / Tyrosine

Valine / Valine**

1.25 g

0.56 g

2.63 g

0.58 g

3.86 g

0.44 g

0.32 g

1.52 g

2.41 g

2.17 g

0.52 g

0.69 g

1.49 g

1.20 g

1.79 g

0.29 g

0.62 g

1.38 g

Ingredients: Protein Blend (Whey Protein Isolate, Whey Protein Concentrate, Whey Protein Hydrolysate), Natural Flavour, Guar Gum, Salt, Stevia (Leaf) Extract, Sunflower Lecithin (Emulsifier).
Contains: Milk
May Contain: Sesame, peanuts, tree nuts, soy, egg, fish/crustaceans/shellfish oils, and wheat products.
Recommended Use
Adults: mix 1-2 scoops with 250-500 ml of water. Vary the amount of liquid to achieve your own desired taste and consistency.

As part of a healthy shake

After a workout/exercise

For those looking to lean out when part of a balanced diet and exercise routine